Unlock Six Figure Cash Flow: Five Breakthroughs for Making the Shift From Six-Figure Business to Six-Figure Cash Flow to Fund the Life You Crave
(even if you haven't crossed the six-figure mark yet)
What It Really Takes to Attract Ideal, High-Paying Clients
Get INCREDIBLE results without spending hours and hours creating content, launching new products and services or a large advertising budget.
How to Raise Rates Without Working More Hours
I'll show you how my clients have time to live the life they desire while bulletproofing their financial future and giving their family access to what matters most. Start enjoying your business journey and build a business that fully funds the life you crave.
The Powerful Shift to Getting Paid More
Not charging higher rates is actually doing your clients a disservice... we'll make getting paid more for the transformation you offer a regular occurrence!
How to Position Yourself as the Go-To Authority in Your Industry
What you need to do RIGHT NOW, even if you don't have a boatload of client testimonials or no one knows you (yet).
The FASTEST Way to Increase Qualified Leads
The old ways of marketing will never produce a steady flow of ideal clients.
The Secret Weapon of Scaling Your Business
I'll share the strategies my clients are using to build their businesses to six or multiple six (or even seven figures) a year, without sacrificing anything that truly matters to them.
"I grew my business to $1.5 Million with Darnyelle's help!"
"Before working with Darnyelle, I was enjoying the fruits of running a ½ million dollar business. I'm good at what I do but something was missing. Just a month or so into my work with Darnyelle I experienced a massive shift mentally and got into action. As a result, I built my pipeline to more than $40,000,000 and grew my revenue to $1,500,000! I've worked with other coaches who didn't really understand business and so working with Darnyelle has been so refreshing. My business is on a trajectory of growth, my mindset is focused on abundance and I am just getting started. If you're ready to up-level your mindset, business acumen and results, you should be working with Darnyelle."
SHEYLA BLACKMAN
Government Contract Coach
This is a Must-Attend if...
You AREN'T yet making six-figures, but know that your potential is there.
You ARE making six-figures, but for some reason are still struggling to make ends meet because the cash flow isn't there.
You don't run your business; your business runs you and your personal life is taking a toll
You feel a misalignment between your business self and your spiritual walk, and you're ready to bridge the gap between the two areas of your life
About Darnyelle Jervey Harmon, MBA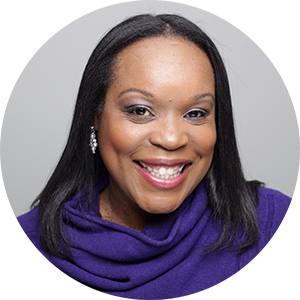 Darnyelle is the CEO of Incredible One Enterprises, LLC a 7-figure business coaching and consulting brand. Her Incredible Factor includes combining spiritual principles with business growth strategy. Specifically, she helps her high achieving clients connect messaging and marketing to sales, systems and scalabilty so that they shake the planet and build a business that serves them financially and spiritually as they profitably impact the world.
Darnyelle is an award-winning CEO, speaker, consultant and strategist whose work has been featured in Essence, Success, Black Enterprise and O Magazines. She is a best selling author with 7 books to her credit, including her latest projects Burn the Box: 7 Fire Starter Strategies Leaders Can Leverage and Market Like a R.O.C.K. Star. In 2012, she was named Coach of the Year by Stiletto Woman Media and in 2013, she was recognized as a Small Business Champion by Small Business Trends. In 2018, she was awarded the Women Presidents Organization's Women of Color Excellence Award and she joined the $1MM class of Enterprising Women of the Year. In 2019, Darnyelle was named the Black CEO of the Year and was a finalist for the eWomenNetwork Made It to a Million Award.
Darnyelle has a Bachelor of Arts degree from the University of Delaware, a Masters of Business Administration from Goldey Beacom College, a Kolbe Specialist Certification from the Kolbe Corporation and an Executive Coaching Certification from the Center for Executive Coaching.
"My Business Has Doubled!"
"Before working with Darnyelle, I was a successful Mary Kay Sales Director who had reached the 'there has to be more to life than this' point. I knew I needed help developing my business and brand, so I enlisted Darnyelle's help to understand the skills of building a business. I went from generating $1,500 a month to over six figures by the end of my first year working with Darnyelle. And in my second year with Darnyelle, I enjoyed a more than a six-figure year!
I am on target for a ½ million business in the next year based on everything that Darnyelle and I have created together. More than that, I have a business that serves me and funds my life – I've paid off so much debt, paid for my wedding and honeymoon of a lifetime with family and friends, and created a lifestyle for my family because of how she's helped me to grow my business. If you know you're not earning what you should in your business, call Darnyelle. She will help you grow your business."
SHANIECE WISE SPENCER
CEO, Wise, Armstrong and Associates