Are you struggling to make a profitable pivot in your business right now?
Join award-winning spiritual business growth strategist Darnyelle Jervey Harmon, MBA for special masterclasses designed to help you make the necessary poignant, powerful and profitable shifts necessary to continue on your journey of Next Level Everything so that you still hit your next money milestone this year!
What we are experiencing right now all over the world is a wake up call...Right now, everyone is scrambling to stay relevant, hit their goals and prepare for more new business this year. Yes, there is still business to be closed and clients to be served. You might think I'm crazy but I believe you have an unprecedented opportunity to shift your businesses powerfully so that you get one step closer to your Next Level Everything
To find them, you're going to have to PIVOT.
To help, I'm teaching on five of my most powerful business growth topics, so that you can get the guidance and support you need to make a Profitable Pivot. Plus, I'm including recordings of laser coaching sessions that I held live, so you can hear exactly how to apply the strategies to an actual business. (I teach REAL strategy, not theory.)
There are five (5) classes to choose from.
Each class includes video recording of me teaching from the live class and an audio recording of the laser coaching and Q & A.
You can get access to all five OR you can just choose the ones you need most right now.
Did you know that economic downturns are the perfect time to position your business for leverage and scale?
Join me for all or one of the Masterclasses and I will show you what I mean.
Just $449 (individual classes $99 each)
By enrolling in all five, you'll save on your overall investment.
MORE: The Money Mindset Pivot
Messaging That Will Make You Millions Part 1
Messaging That Will Make You Millions Part 2
Marketing for Influence, Impact and Income
What Does Social Distancing Have To Do With Sales?
MORE: THE MONEY MINDSET PIVOT
Times like these drag all of our old stories out of hiding and make us question everything about ourselves. In this powerful masterclass, Darnyelle will help you through her proven mindset pivot process, specifically for shifting your mindset around money so that you can prepare to welcome more of it in. Truth be told, without this masterclass, you may not be ready for the MORE that is on the way.  You'll learn how to shift your state of BEING so that you open yourself up to raising your deserve level and embodying who you need to be to serve your most ideal clients.
MESSAGING THAT WILL MAKE YOU MILLIONS PART 1
Before you can craft a marketing message that cuts through the noise in our very crowded marketplace, you have to dig deep into getting clarity about the SPICE problem you solve and how that problem is wreaking havoc in the lives of your most ideal prospects.  This is where most entrepreneurs and small businesses go wrong.  They create surface level marketing messages and not messages that cut your prospects so deeply that hiring you is their only choice.  In this first part of the masterclass, we are going to "prepare" your messaging pallet so that creating your must have marketing messages turns on your money printing press.
MESSAGING THAT WILL MAKE YOU MILLIONS PART 2
In the second part of the messaging master class, we will create your powerful must have marketing messages - messages that will position you ABOVE the NOISE so that your most ideal clients see you, engage with you and hire you faster than they ever will unless you learn how to articulate a message that evokes emotion, highlights the pain and succinctly shares the solution. When your message is tight, your money will be right and you'll be able to attract new clients in ANY economy.
MARKETING FOR INFLUENCE, IMPACT AND INCOME
Let's face it, the way we market needs a powerful SHIFT. Making sure that you're using the right marketing strategies (out of a possible 50) to get found by your most ideal clients is the name of the game. If you need to generate both awareness and revenue from your marketing during today's unstable climate, this class if for you.
WHAT DOES SOCIAL DISTANCING HAVE TO DO WITH SALES?
If you're allowing the current status of the global marketplace to make you feel uneasy selling, your business isn't going to last very long. By helping you to shift your sales "come from" and offer you some new and insightful ways to be mindful of our current landscape while still positioning your products and services, your sales approach will pivot to meet their needs. Learn how to sell in a way that is supportive so that your clients start asking you if they can hire you.
About Darnyelle Jervey Harmon, MBA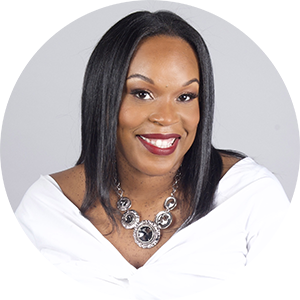 Darnyelle is the CEO of Incredible One Enterprises, LLC, a multi-million dollar coaching and consulting brand. Best known for transforming the lives of her business coaching clients, Darnyelle equips her clients to leverage and scale businesses that serve them financially and spiritually.  From mindset to messaging, marketing, sales, systems and scale, Darnyelle can take you from nearly six figures to seven figures in record time all while deepening your connection to God and strengthening your faith.
Darnyelle is an award-winning CEO, speaker, consultant and strategist whose work has been featured in Essence, Success, Black Enterprise and O Magazines. She is a best-selling author with 7 books to her credit, including her latest projects Burn the Box: 7 Fire Starter Strategies Leaders Can Leverage and Market Like a R.O.C.K. Star. In 2012, she was named Coach of the Year by Stiletto Woman Media and in 2013, she was recognized as a Small Business Champion by Small Business Trends. In 2018, she was awarded the Women Presidents Organization's Women of Color Excellence Award and she joined the $1MM class of Enterprising Women of the Year. In 2019, Darnyelle was named the Black CEO of the Year and was a finalist for the eWomenNetwork Made It to a Million Award.
Darnyelle has a Bachelor of Arts degree from the University of Delaware, a Masters of Business Administration from Goldey Beacom College, a Kolbe Specialist Certification from the Kolbe Corporation, an Executive Coaching Certification from the Center for Executive Coaching and a prophetic anointing from God.