Thanks for joining me here after listening to my interview during...
The Best Practices Business Summit - for Coaches! with Valerie Del Grosso
What would your life be like if you could create 6-figure cash flow while building a business that serves you in every possible way, and you could do it without hustling, grinding, or extreme burnout?
Watch the complimentary master class to learn how to fund the life you crave:

"Positioned to Profit: How I Unlocked Six Figure Cash Flow WITHOUT Tiresome Content Creation, Launches or a Massive Ad Spend"

(or scroll down for more info)
We guarantee 100% privacy. Your information will not be shared.
By submitting this form, you are confirming you have read and agree to our Terms of Use & Privacy Policy.
"Before working with Darnyelle, I was enjoying the fruits of running a ½ million dollar business. Just a month or so into my work with Darnyelle, I experienced a massive shift mentally and got into action. As a result, I built my pipeline to more than $40,000,000 and grew my revenue to $1,500,000! I've worked with other coaches who didn't really understand business and so working with Darnyelle has been so refreshing. My business is on a trajectory of growth, my mindset is focused on abundance and I am just getting started. If you're ready to up-level your mindset, business acumen and results, you should be working with Darnyelle."

- Sheyla Blackman,

ITMC Solutions & Government Contractor Coach
During this Master Class you will learn:
What it really takes to attract ideal, high paying clients who get INCREDIBLE results without spending hours and hours creating content, launching new products and services or a large advertising budget
How my clients are raising their rates without working more hours, so that they have time to live the life they desire while bulletproofing their financial future and giving their family access to what matters most
Why not charging higher rates is actually doing clients a disservice and the powerful shift to make getting paid more for the transformation you offer a regular occurrence
How business owners can position themselves as the go-to authority in their industry RIGHT NOW, even if they don't have a boatload of client testimonials or no one knows them
Why the old way of marketing will never produce a steady flow of ideal clients and the FASTEST WAY to increase qualified leads
The secret weapon our clients are using to build their businesses to six or multiple six (or even seven figures) a year, without sacrificing anything that truly matters to them.
And how we do ALL this while working less, enjoying the journey and building a business that fully funds the life we crave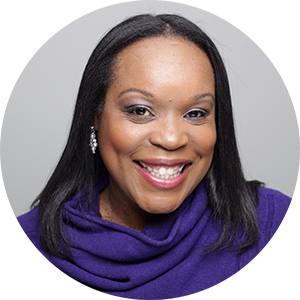 Prior to starting Incredible One Enterprises, LLC, Darnyelle was a VP in a Fortune 500 Financial Services company before leaving in 2005 to start her entrepreneurial journey.  From 2005 to 2007, she ran a multiple six figure Mary Kay Cosmetics business.  During her Mary Kay tenure, she grew her unit from 22 to 500 and created 5 off-spring independent sales directors. In 2008,  she returned her Pink Cadillac to the company and started Incredible One Enterprises. Thinking she was ready for true entrepreneurship she made many mistakes, and as a result she found herself employed, again.  But her position as the Director of the Center for Women's Entrepreneurship positioned her perfectly to build her new business, her dream, the right way from the start.  While she ran the women's business center, she grew the program outcomes and attendance by 68%. It also gave her a testing ground to validate her proprietary system, the Leverage Your Incredible Factor System ®. Within 3 years she went from low five figures to multiple six figures in gross revenue for her company (while she was working for someone else.)  And today, Incredible One Enterprises, LLC has helped thousands of women entrepreneurs build a solid business while learning step by step how to define, own, unleash and leverage their Incredible Factor and Darnyelle now has a 7-figure business.
In a nutshell, Darnyelle helps service-based entrepreneurs become 6 or 7 figure CEOs in a year or less so that they can fund the life the crave while building a business that serves them.
Watch the master class now:
"Positioned to Profit: How I Unlocked Six Figure Cash Flow WITHOUT Tiresome Content Creation, Launches or a Massive Ad Spend"

We guarantee 100% privacy. Your information will not be shared.
By submitting this form, you are confirming you have read and agree to our Terms of Use & Privacy Policy.