Thanks for joining me here to get your free gift after listening to my interview during the...

If your business isn't making the money you wish it would,
you're likely making one of these critical mistakes!
Get your free audio:
"7 Critical Mistakes Even Smart Entrepreneurs Must Avoid for
Clients, Connection and Cash Flow!"
(or scroll down for more info)
"This information is a must have for your professional library.  Darnyelle has made it simple to understand and offers insight and resources to turn any mistake into a money-making opportunity in your business."

- E. Michaels,

Small Business Administration
REVEALED:

The 7 Critical Mistakes You Are Making That Are Keeping You STUCK in a Mediocre Business With a Mediocre Brand. Finally a Tool to Help You Stop Making Mistakes and Start Making More Money.
The truth is, if you are NOT making MORE than 6-figures in your business,
you NEED this audio download!
If your business is not thriving (whatever that means to you), it is likely that you are making one of these critical mistakes.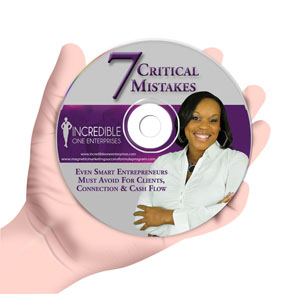 In this free audio (originally on a CD), Darnyelle A. Jervey, MBA, an award winning business optimization coach and mentor, shares the 7 mistakes that her years of experience as a former Director of a Women's Business Center plus her background in building two successful personal businesses has taught her.  At some point in time, she and most of her clients, have made one, two or all of these mistakes and they delayed their six figure business from showing up. These mistakes, despite how simple, are critical to building a business that is solid, thriving and holistically successful and she highly recommends that you learn what they are and position yourself to STOP making them as soon as possible. The truth is, if your business is not making the kind of money you'd always dreamed it would, it's likely because you're making one of these 7 critical mistakes. Hidden in the content shared in this audio is an effective business plan and six figure blueprint strategy for any passion-based business.
Don't let pride, fear or excuses keep you from the high content information. Lucky for you, it's free!
(Plus you'll receive a free subscription to The Incredible Factor, our weekly e-zine which features high content articles and videos designed to show you how to define, own, unleash and leverage your Incredible Factor in record time.)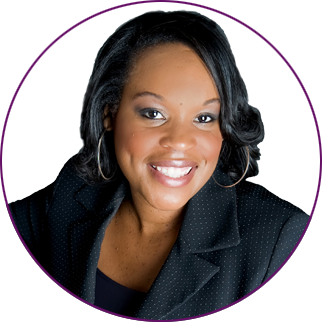 Prior to starting Incredible One Enterprises, LLC, Darnyelle was a VP in a Fortune 500 Financial Services company before leaving in 2005 to start her entrepreneurial journey.  From 2005 to 2007, she ran a multiple six figure Mary Kay Cosmetics business.  During her Mary Kay tenure, she grew her unit from 22 to 500 and created 5 off-spring independent sales directors. In 2008,  she returned her Pink Cadillac to the company and started Incredible One Enterprises. Thinking she was ready for true entrepreneurship she made many mistakes, and as a result she found herself employed, again.  But her position as the Director of the Center for Women's Entrepreneurship positioned her perfectly to build her new business, her dream, the right way from the start.  While she ran the women's business center, she grew the program outcomes and attendance by 68%. It also gave her a testing ground to validate her proprietary system, the Leverage Your Incredible Factor System ®. Within 3 years she went from low five figures to multiple six figures in gross revenue for her company (while she was working for someone else.)  And today, Incredible One Enterprises, LLC has helped thousands of women entrepreneurs build a solid business while learning step by step how to define, own, unleash and leverage their Incredible Factor and Darnyelle now has a 7-figure business.
While today she boasts success, it wasn't always that way because she made ALL of the mistakes you are currently making that are keeping you from growing a solid thriving business.  But that stops as soon as you download the free audio and take action on the high value information that she graciously shares with you.
In addition to making ALL of these mistakes herself, she's noticed these mistakes in all of her clients, (prior to coming to work with her – of course) and she wants to help you finally move beyond the mistakes and into a mission based business that pays you in satisfaction and increased income!
Get the audio now:
"7 Critical Mistakes Even Smart Entrepreneurs Must Avoid for
Clients, Connection and Cash Flow!"

Be Incredible,