3 Gaps Keeping You From Your Dream Money Milestone — $250K, $500K or $1MM
This is the most relevant training for you right now if you're not already generating multiple six or seven figures.
Why?  Because in the 12 years I've been coaching and mentoring entrepreneurs, I have never met one who quit their "good job" to make less than six figures a year.
So  have a gift for you - the EXACT blueprints that will get you to your next money milestone - $250K, $500K or $1 Million (and if you haven't hit $100K yet - I even have one for you)... and how you can do it with 30 or less clients to boot? 

There is nothing I want more for you, because let's face it, if you're going to work hard, shouldn't you have a business that serves you?!   To get you to your next money milestone,  we have to deal with the 3 pesky gaps that are keeping you from it! And when we do, you know what that means - you can finally stop working like a super slave to your business and start living the life you crave.... That's right, all of the marketing you've been doing that hasn't been working you can stop! That's right, no more Facebook Lives, endless blogging or spending all of your time on social media collecting vanity likes - you'll actually start to build a business in a way that serves and supports all that you are and oh, yeah - you can do it all without big launches and launch calendars and paid advertising if you choose.
(Don't worry, I'm sure you can find something to do with all of the time you'll get back, right?!)
How about more time with your family, freedom to travel, and resources to give to the causes that warm you heart and stir your spirit?
During this COMPLIMENTARY  training
• A blueprint for a simple way to hit your next money milestone with 30 or less clients
• The #1 reason achieving your money milestone will continue to elude you
• How my clients are growing their businesses beyond the six-figure mark and unlocking consistent cash flow
• How to make THIS year, the year you unlock six figure cash flow (and remember, cash flow is not the same as revenue; it's much more important)
"From $7,000 to $40,000+ a month consistently!"
"When I first met Darnyelle, I was a mess! Charging too low, unorganized, fearful and unclear how I could really make the kind of money I desire in my business. Since hiring her, I've stepped into my place as a high-end designer, charging five and six figures for my design work and no shortage of clients. I've more than doubled my business and I am just getting started. Because Darnyelle is a strategist she helps me think high level and offers insights and actions that move the needle in my business. But the change in me is much more than the money I've earned. I'm confident, I'm clear and I'm building a team to support my business – none of which would have happened had it not been for Darnyelle coming into my life.  Darnyelle is so much more than a business coach/consultant. She's a life changer. If you want to change your life (and grow your business in the process) hire Darnyelle. You're worth the investment!"
KIM KENDALL
Interior Designer
This is a Must-Attend if...
You have been STRUGGLING to identify the reason why your business isn't growing at the level you know it should
You ARE making money, but you know that based on who you are and what you offer, you should have much more
You know you're undervaluing your services, but you're scared to raise prices or don't think your clients will stay with you if you charge more.
You're ready to turn your gaps into gateways so that you build a business that serves you both financially and spiritually
You are ready to close the gaps that are keeping you from serving more of your ideal clients in a way that honors your value and expertise
You're sick and tired of coming up empty in your business and you know that with help you can turn a corner that closes your gaps
About Darnyelle Jervey Harmon, MBA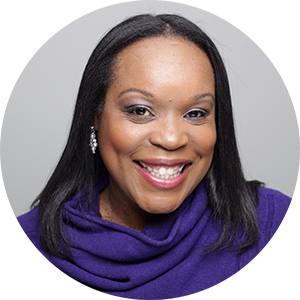 Darnyelle is the CEO of Incredible One Enterprises, LLC, a multi-million dollar coaching and consulting brand. Best known for transforming the lives of her business coaching clients, Darnyelle equips her clients to leverage and scale businesses that serve them financially and spiritually.  From mindset to messaging, marketing, sales, systems and support, Darnyelle can take you from nearly six figures to seven figures in record time, all while deepening your connection to God and strengthening your faith.
Darnyelle is an award-winning CEO, speaker, consultant and strategist whose work has been featured in Essence, Success, Black Enterprise and O Magazines. She is a best-selling author with 7 books to her credit, including her latest projects Burn the Box: 7 Fire Starter Strategies Leaders Can Leverage and Market Like a R.O.C.K. Star. In 2012, she was named Coach of the Year by Stiletto Woman Media and in 2013, she was recognized as a Small Business Champion by Small Business Trends. In 2018, she was awarded the Women Presidents Organization's Women of Color Excellence Award and she joined the $1MM class of Enterprising Women of the Year. In 2019, Darnyelle was named the Black CEO of the Year and was a finalist for the eWomenNetwork Made It to a Million Award.
Darnyelle has a Bachelor of Arts degree from the University of Delaware, a Masters of Business Administration from Goldey Beacom College, a Kolbe Specialist Certification from the Kolbe Corporation, an Executive Coaching Certification from the Center for Executive Coaching and a prophetic anointing from God.
"I grew my business to $1.5 Million with Darnyelle's help!"
"Before working with Darnyelle, I was enjoying the fruits of running a ½ million dollar business. I'm good at what I do but something was missing. Just a month or so into my work with Darnyelle I experienced a massive shift mentally and got into action. As a result, I built my pipeline to more than $40,000,000 and grew my revenue to $1,500,000! I've worked with other coaches who didn't really understand business and so working with Darnyelle has been so refreshing. My business is on a trajectory of growth, my mindset is focused on abundance and I am just getting started. If you're ready to up-level your mindset, business acumen and results, you should be working with Darnyelle."
SHEYLA BLACKMAN
Government Contract Coach