BIBLE SCRIPTURES FOR BUSINESS GROWTH
There has never been a more important time to lead with your faith in your business!
People are worried, focused in lack and losing direction over the media's portrayal of what's occurring globally.  People are going to need your calm, confidence and faith-filled assurance!  In this season, you'll gain more clients from your confidence than your sales skills.  I have always believed that businesses with a spiritual foundation go farther faster!  You see, when your connection and alignment to God is high, your confidence soars and gives you the faith to position yourself to experience profitability on every transaction in your business.
Because I know that we need God more than ever to become the true CEO of our businesses, I created this powerful resource so that you can have faith and finance because you don't have to choose...
Yes!  Faith and Finance can peacefully coexist.  Yes! You CAN love God and make lots of money in your business.  In fact, that is what God has already ordained for you!

Download Scriptures for Business Growth
We guarantee 100% privacy. Your information will not be shared.
By submitting this form, you are confirming you have read and agree to our Terms of Use & Privacy Policy.
In 2013, I received a prophetic word that if I would take a bold stand for God, He would make it easy for me.
As a woman who has always been a God girl, I admit that I didn't always lead with my spirituality, especially in my business.  I used to think that if I did, I would offend prospects and clients.
Interestingly, when I decided to be myself authentically and let the God in me shine, I noticed something powerful:  my client count increased, my exposure increased, and I crossed the million-dollar mark in my business... and if that wasn't enough, I noticed that my anointing transformed the lives of my clients and they began to seek God and deepen their connection to Him.
Today, when it comes to combining spiritual principles with business growth strategy, there is no one who does it better. That's how I know that businesses with a spiritual foundation go farther, faster.  And if you don't believe me, just check out my client success stories.  In the last 10 years, my clients have generated a combined $85MM in revenue.
Because I am known for this work, I am often asked which scriptures are relevant to the business-building journey, so I wanted to gift you with my cheat sheet.  All you have to do is enter your name and email and you can download it for your own edification.  And, when you download the cheat sheet, we will also share the podcast episode where I talk about the scriptures in detail to deepen your edification.
May God bless you and your business!
About Dr. Darnyelle Jervey Harmon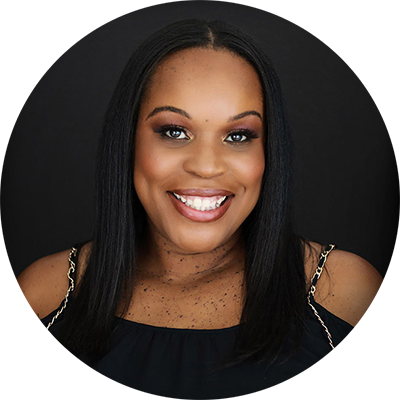 Darnyelle is the CEO of Incredible One Enterprises, LLC, a multi-million dollar coaching and consulting brand. Best known for transforming the lives of her business coaching clients, Darnyelle equips her clients to leverage and scale businesses that serve them financially and spiritually.  From mindset to messaging, marketing, sales, systems and scale, Darnyelle can take you from nearly six figures to seven figures in record time all while deepening your connection to God and strengthening your faith.
Darnyelle is an award-winning CEO, speaker, consultant and strategist whose work has been featured in Essence, Success, Black Enterprise and O Magazines. She is a best-selling author with 7 books to her credit, including her latest projects Burn the Box: 7 Fire Starter Strategies Leaders Can Leverage and Market Like a R.O.C.K. Star. In 2012, she was named Coach of the Year by Stiletto Woman Media and in 2013, she was recognized as a Small Business Champion by Small Business Trends. In 2018, she was awarded the Women Presidents Organization's Women of Color Excellence Award and she joined the $1MM class of Enterprising Women of the Year. In 2019, Darnyelle was named the Black CEO of the Year and was a finalist for the eWomenNetwork Made It to a Million Award.
Darnyelle has a Bachelor of Arts degree from the University of Delaware, a Masters of Business Administration from Goldey Beacom College, a Kolbe Specialist Certification from the Kolbe Corporation, an Executive Coaching Certification from the Center for Executive Coaching and a prophetic anointing from God.
Download the Scriptures for Business Growth
We guarantee 100% privacy. Your information will not be shared.
By submitting this form, you are confirming you have read and agree to our Terms of Use & Privacy Policy.
"$40,000 in NEW Revenue & Celebrating His Greatness!"
"Since working with Darnyelle, I've literally seen my life and business transform. I was struggling with validation and the fear of not succeeding. Darnyelle's program has put me in divine alignment, and I am experiencing the overflow from it! My confidence is my gift from God! I deserve to celebrate His greatness in my life, and I finally believe that.
So far in Darnyelle's program, I acquired 8 new authors for my publishing business and enrolled 14 new clients in my soul healing counseling program. I've also secured 7 speaking engagements. All of this will yield over $40,000 for my business once projects are completed.
If you're not confident, clear, and closing new clients consistently, you need Darnyelle!"
JOLANDA ROGERS
CEO – TALK Consulting, LLC
Download the Scriptures for Business Growth
We guarantee 100% privacy. Your information will not be shared.
By submitting this form, you are confirming you have read and agree to our Terms of Use & Privacy Policy.