5 Things Every Entrepreneur Must Master to Maximize the Rest of the Year
Tuesday, July 7, 2020 at 4 pm Eastern
REGISTER FOR THE TRAINING
Tuesday, July 7, 2020 at 7pm Eastern
I know the first half of 2020 left you with more than you bargained for with COVID-19 wreaking havoc on your plans to make this your best year yet, but I'm here to tell you that 2020 Ain't Canceled. Your purpose has not been quarantined.
That's right, RIGHT NOW people are looking for you to help them solve their SPICE Problem.
Did you know that we are about to enter the most profitable half of any year in every industry?
If you're not intentional, you'll miss your opportunity to finish the year STRONG...
Trust me, 2020 is not over. In fact, there are nearly 6 more profit-producing months left to exceed your goals (even if you're way off track).
During this FREE live training
5 "RIGHT NOW" Business Changing Comebacks that when implemented will immediately shift the trajectory of your remaining 2020 and set you up for 2021
The 4 things that if you focus on them COULD take you to $1MM mark in the next year (it's not what you think but it's the reason you're stuck at your last money milestone)
The #1 mindset issue threatening to derail your results for the rest of the year
Why NOW is the time to create your 2021 strategic plan
What it means to Leverage + Scale your business, and how no matter where your business is today, you can finish the year working smarter, not harder and earning more than you dreamed possible
REGISTER FOR THE TRAINING
Tuesday, July 7, 2020 at 7pm Eastern
About Darnyelle Jervey Harmon, MBA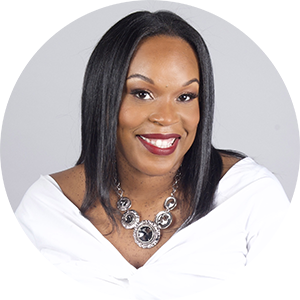 Darnyelle is the CEO of Incredible One Enterprises, LLC, a multi-million-dollar coaching and consulting brand. Best known for transforming the lives of her business coaching clients, Darnyelle equips her clients to leverage and scale businesses that serve them financially and spiritually. From mindset to messaging, marketing, sales, systems and scale, Darnyelle can take you from nearly six figures to seven figures in record time, all while deepening your connection to God and strengthening your faith.
Darnyelle is an award-winning CEO, speaker, consultant and strategist whose work has been featured in Essence, SUCCESS, Black Enterprise and O magazines. She is a best-selling author with 7 books to her credit, including her latest projects Burn the Box: 7 Fire Starter Strategies Leaders Can Leverage and Market Like a R.O.C.K. Star. In 2012, she was named Coach of the Year by Stiletto Woman Media and in 2013, she was recognized as a Small Business Champion by Small Business Trends. In 2018, she was awarded the Women Presidents Organization's Women of Color Excellence Award and she joined the $1MM class of Enterprising Women of the Year. In 2019, Darnyelle was named the Black CEO of the Year and was a finalist for the eWomenNetwork Made It to a Million Award.
Darnyelle has a Bachelor of Arts degree from the University of Delaware, a Masters of Business Administration from Goldey Beacom College, a Kolbe Specialist Certification from the Kolbe Corporation, an Executive Coaching Certification from the Center for Executive Coaching, and a prophetic anointing from God.
REGISTER FOR THE TRAINING
Tuesday, July 7, 2020 at 7pm Eastern